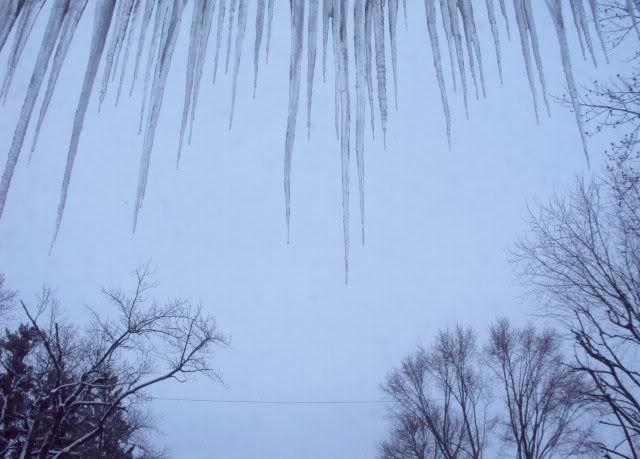 Yesterday:
7:30am
Voice on the Radio
: We expect 3-8 inches starting this afternoon and continuing until 7am on Friday morning.
Voice in my Head
: The conditions are PERFECT.

1:30pm
Voice of a pessimistic 8th grade student, after all middle school practices have been canceled
: It isn't even snowing yet! How is it that they are canceling everything? This storm isn't even going to show up.
Almighty Teaching Authority
: The weather report didn't call for snow until this afternoon
Voice from student
: It is afternoon.
Almighty Teaching Authority
: Later afternoon.
Look from student
: Unconvinced
Voice in head
: Don't crush my hope for a long weekend! I could accomplish so much with a snow day! Clean the house! Take down Christmas decorations! Work on planning for next semester!
2:00pm
Snow starts
3:00pm
Snow thickens
Voice in head
: See, you unbelieving 8th grade students, the snow day IS coming.

4:00pm
Voice in head
: The roads are TERRIBLE. Well, maybe just slippery…but the conditions are still PERFECT.

5:00pm
THE SNOW STOPS
Voice in head
: It will come back…all the weather reports called for snow—all night.
7:00pm
STILL NO SNOW
Voice in head
: So, what was I planning on teaching tomorrow?
10:00pm
STILL NO SNOW
Weather report calls for more snow starting at 2am.
Voice in head
: Yeah, right. Like the snow that supposed to be falling ALL EVENING? I should have listened to the 8th grader…
Today:
4:58AM
Text Message
: NO SCHOOL
Love it.
Now, where did I put those boxes for the
Christmas decorations
?