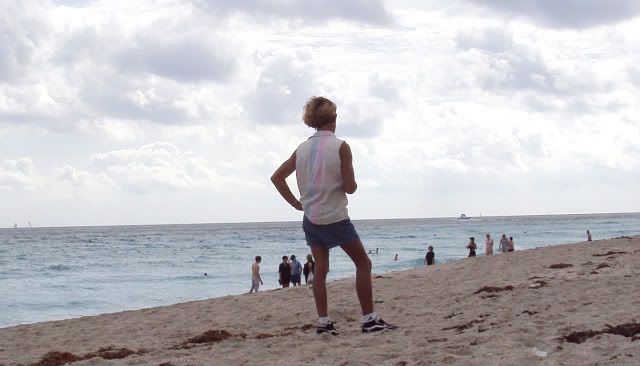 Vacationing at the beach this past week found me anticipating time to read, soak up sun, perfect my skills at bocce ball, and walk on the beach. I (completely) forgot about how much I enjoy watching people.
The beach presents some pretty interesting characters over the course of a week. In addition to the old couples, young couples, travelling families and resident snowbirds are those that "work" the beach everyday.
You can rent almost anything in a week at the beach: canoes, jet skis, sail boats, and surf boards to use in the water; hotel and motel rooms, condos and yachts, for when the sun has left one exhausted. But in between the sun and exhaustion lies an important piece of furniture: the lounge chair.
We met Debbie (as we came to call her) our first day on the beach. After exploring the terrain in search of a place to spread out and relax, we settled on a couple pairs of lawn chairs, protected from the wind with angled umbrellas, facing south toward the arch of the sun. These chairs lined the shore of the beach for a couple hundred yards.
Debbie greeted us shortly after we'd settled into our books, welcoming us jovially while informing us that the chairs we were so settled into could be rented from her for the day.
"Rented?"
We explained that we had not realized they were for hire, to which she replied incredulously "You thought they were free?"
Yes, kind of like picnic tables, or park benches, or facebook. We thought that these wind protected, pad covered, sun-facing lounge chairs were tax payers' gift to visiting tourists.
Call us naive.
After we removed all our belongings and spread our sheet on the sand, covering it with various items to weight down all corners, we discussed our misjudgment of the situation, and our intrigue with Debbie. As the week progressed we observed her from afar, trying to piece together what her life—as one who collects for chair rentals—looks like.
We weren't disappointed.
Throughout the week our lives intersected with Debbie on several occasions. We found her home, situated a short walk from our condo, and obsevered her laboring to fix a broken umbrella in the shade of her open garage. She was seen long boarding down the sidewalk, small dog riding passenger near her feet, in the cool dark evening. She was even witnessed leaving one hotel's New Year's Eve party, shouting up to the balcony of a guest.
Her robotic gait and tan leathered skin made her easy to recognize from afar, as did her constant accompaniment of iPod and headphones. She walked back and forth everyday on the beach for hours, sometimes with a sweatshirt and jeans, sometimes in shorts and a tank top, at times with shoes though often barefoot, but rarely without her tunes.
And while her activities seemed easy enough to find, her playlist—alas—eluded us.