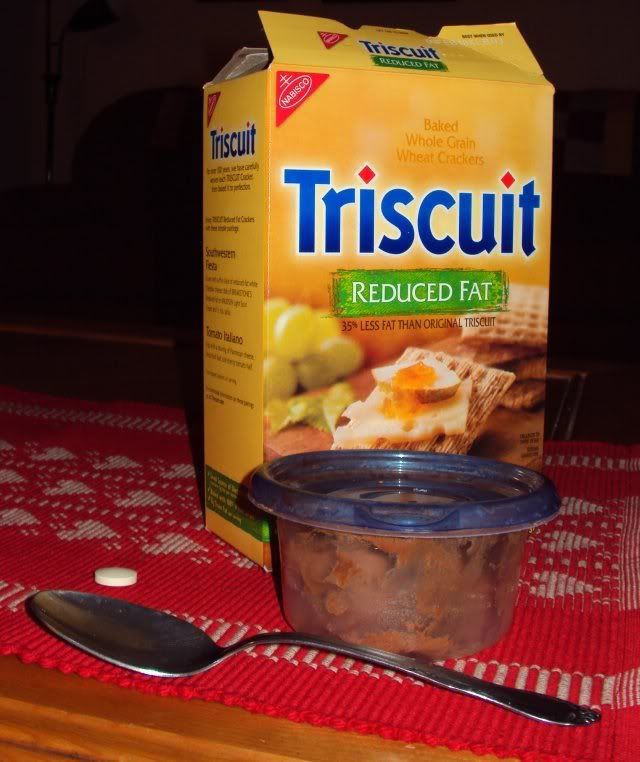 How My Weekend Concluded…
At 9:26pm last night
I was feeling restless and just "off". You know that feeling where nothing offers contentment (productive or not) and there is no motivation to do anything, yet sitting still seems tortuous?
Like that.
Because I needed a nap this morning (before church) and this afternoon (after church) there was fear amongst the family (note: two of us) that I may be coming down with something.
Enter:
Zinc Tablet
This lovely, chalky, faux-citrusy dissolving tablet must, however, be taken with food (unless said consumer would like a stomach ache).
Enter: Triscuits
These salty crackers were husband's solution to "take with food" instructions, which he coupled with another favorite food.
Enter:
Frosting
"I can't put chocolate frosting on Tricuits."
"Why not?" comes the incredulous reply.
"The Triscuits are salty…and grainy. They don't go with chocolate frosting."
"Yes, they do. I ate them the other day."
Yet one more thing that has come out of his
month-of-interviews
: new snacks.
--
In all honesty
, I wonder if my restlessness stems from Curtis's impending return to the workplace. Though he will have a few more weeks off in April and May, come June, and residency, his plate will be overflowing, and I will return to gathering droplets of his existence, rather than having a cup that is overflowing.
The irony of blessing, of abundance, of out-of-the-ordinary extravagance is that transition of coming back to reality makes me wish the routine had never been disturbed. But even with that half-hearted wish is the truth that we do need breaks and respites from the (sometimes exhausting) existences we choose to live.
Even if there is struggle in the transition.