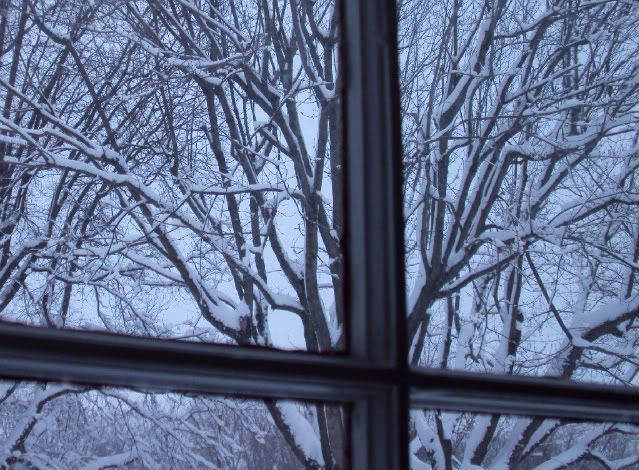 I went to school on Monday disappointed
. The storm that had come over the weekend had been beautiful and fierce—but
failed to offer
any school cancellations. I like heavy snow-laden trees like the next guy, but they are so much more beautiful when I look at them from the couch, in sweatpants, eating fried eggs, while plotting how much I will get done* on my "bonus" day.
*When else are the taxes going to get done? They are (traditionally) a snow-day activity. Something I find the inspiration to complete when a day I was supposed to spend guiding and inspiring teenagers is canceled.
Anyway.
I arrived at school Monday to find out that there was ANOTHER storm coming…on Tuesday night. This one was promised to last 24 hours, all day Wednesday, bringing up to nine inches of travel-hindering goodness.
As Tuesday came the storm was looking even more fierce, with estimations growing to a possible twelve. The snow day was looking so sure that the students
grew antsy
as the day wore on, with afternoon classes feeling like battles to instill discipline on Christmas Eve.
The present was coming. They were sure of it.
The snow started late morning and continued all day. It was beautiful, and enchanting, and the parking lot was a mess.
The conditions were perfect.
I drove home last night, sliding around corners with glee. The snow continuing all night as predicted would call for a snow day for sure.
But then the unthinkable happened: The winter storm warning was downgraded to an advisory (gasp!) and I went to bed dismayed.
"The students are going to be so irritable tomorrow if we have school," I mumbled to my husband. "And I'm not going to be able to sleep anticipating this possible misery."
"It's like Christmas Eve," he replied, a little too happily.
"Except that I might end up with coal in my stocking. It's a viable possibility."
I tossed and turned all night…
…until I got the promised text message at 5:31AM.
Alas, there was no coal. I still believe.
Now, where are those tax forms?