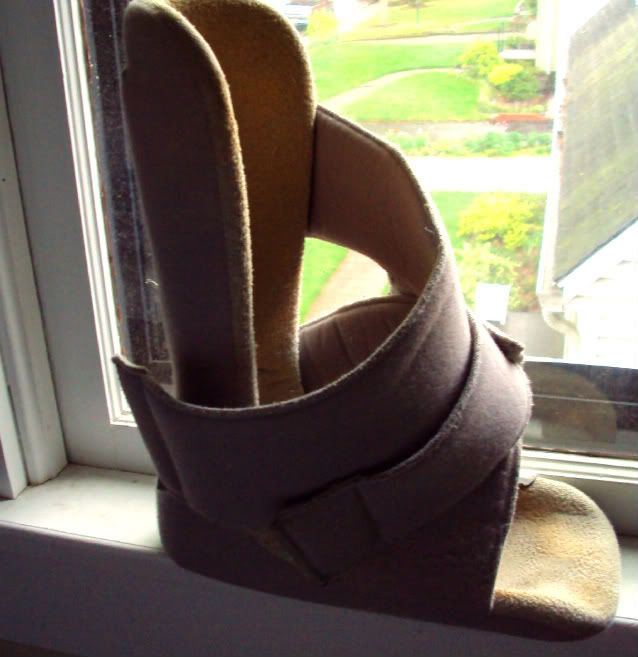 The "Achilles" boot...to keep it flexed at night...
"…but mouse, thou art no thy lane, in proving foresight may be vain; The best laid schemes of mice and men often go awry, and leave us naught but grief and pain for promised joy!"
(from "To a Mouse", by Robert Burns)
Over a year ago
Curtis flipped ahead in his calendar of medical school and determined that this spring he would train for a marathon. This, he resolved, was the only window he had to put in the necessary hours to train, and eat and sleep in a way that would prepare his body for the task.
The medical school regiment (as you might guess) is quite rigorous, requiring not only ungodly hours in the hospital, but additional hours studying when you get home. The time on your feet and the hospital, coupled with the headache that brews from supplementary studying leaves only a craving for sleep at the end of the day—a craving that often goes unfulfilled for weeks at a time.
Because this formula equals meager health at best, training for anything in the midst of it is pretty much impossible. This was a tough reality for Curtis to swallow, having been a competitive high school and college athlete for the nine years prior to medical school, but he was content to take all the self-discipline and rigor needed for competitive, long-distance running and invest into medical school. It was, after all, only a short term hiatus.
Residency, which starts this summer, requires a similarly unbalanced lifestyle. Thus, the winter and spring prior to graduation, which brings with it a comparably lax schedule, offered the hours needed to run, stretch, lift, eat and sleep that Curtis needed to competitively exercise his narrow frame and challenge himself to see if he could indeed get "back down" to the times he was running four years ago.
One month ago, he succeeded, bettering his
half-marathon
personal best time while I stood by amazed. Why was I surprised? Because he was injured. His Achilles tendon had flared up weeks before—a chronic injury that plagued him through college—and his training had changed from actual running to the obligatory swimming and biking. He didn't expect to run fast than he ever had, when he wasn't running much to start with.
One month later, we are heading into the last week of training…and he still isn't running much. His Achilles issue migrated into an IT band (think knee pain) issue that has persisted in sidelining him from even biking. He has been using an arm cycle (think biking with your arms) to get his heart rate up, and while his arms are looking attractively muscular, his confidence in his legs' strength is waning.
He and I have had a lot of discussions about this marathon, especially the past couple weeks. He has invested so much time and energy into these last four months of training, and it is so difficult to think of coming up with little to show for it.
The half-marathon seemed like such an unlikely exception—can we even hope for another just like it? When the training has only gotten worse? When the distance is twice as long?
And yet, what does he have to lose? The training is done. The window is closing. It will likely be another two or three years before he has time to train again. And when it's all said and done, races that fall so short of expectations still can hold valuable lessons.
Just because
we don't get what we expect
out of situations, doesn't mean we walk away empty handed.