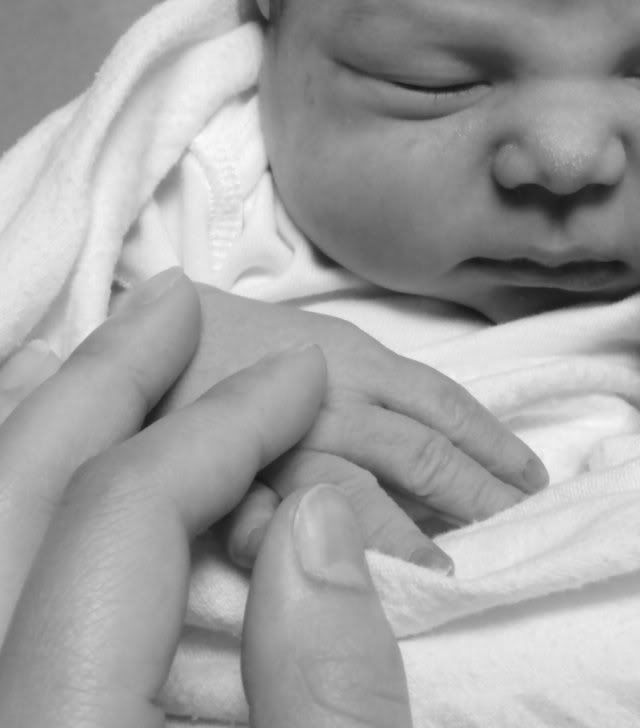 Last night found me all smiles when I got to hold
K
's baby, fresh out of the womb. At thirteen hours old, I soaked in his distinctive scent, and watched him rest quietly in his swaddle while he was passed from arm to arm.
Though I was all smiles in the evening, the entire day preceding the meeting had been an agonizing wait. I'd received a picture text of the baby in the morning (oh the joys of modern technology) and then impatiently waited all day for an invitation to see the little guy.
Nine months of waiting had ended in an instant, and suddenly twelve hours seemed like an eternity.
K and I have had many interesting conversations about the drastic changes we are planning for and undergoing. We have both reached the end of one era, and look forward to the beginning of another.
Transitions come with growing pains (though hers a bit more literal, and mine a bit more figurative), but both come with a bounty of hopeful anticipation for the future, and wonder of what it will hold.
Some days, like yesterday, leave me intoxicated with the wonder of the moment, forgetful for a time of the frustrations of change. Other days find me pained with grief over things that will be lost in transition.
While I am sad to accept the reality that I will
not be as present
with K and her child as I'd like to be over the next few years, I am thankful I can cherish these precious moments in the present, holding onto the hope of future blessings, which will surely be just as rich.
(And stealing away to visit him every time I get a chance)