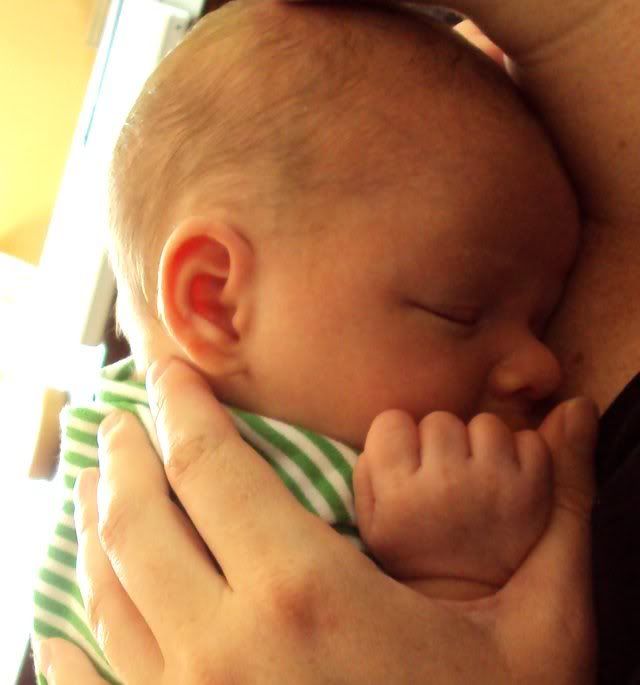 In this last month before the move
Curtis and I have plans to make the rounds around the Midwest, visiting all of those people that we have come to love in these last several years. This three day weekend found me in a minivan for a ten hour ride down to rural North Carolina. The destination? Yet another newborn, the new son of one of our best friends from college.
I traveled down with our friends from Michigan (aunt and uncle to the newborn lad), their seven year old daughter and twin four year old son and daughter. As chaotic as riding for that many hours in a confined space can be with children, it is also refreshing. Details of life that would be missed or taken for granted are front and center with four year olds, who feel the need to remind you to take the "wrapper" off the base of your ice cream cone if you plan on eating the whole thing, and find so much pleasure in gathering around anyone willing to read them a book.
The weekend was complete with swimming (children in tow) around a lake, many hours passing around the new baby, and topped off when lightning bugs climbed out of one of the twins' pockets during an evening movie. "I didn't have a bug jah to put them in" he explained, seeing plenty of logic in his decision to store them in his pocket.
What does tomorrow bring? The return to three more days of school, packing up a classroom that has housed many meaningful experiences over the last four years, and more 80 degree days to weather in the third floor of an old building with no air conditioning.
Yes, summer has arrived.