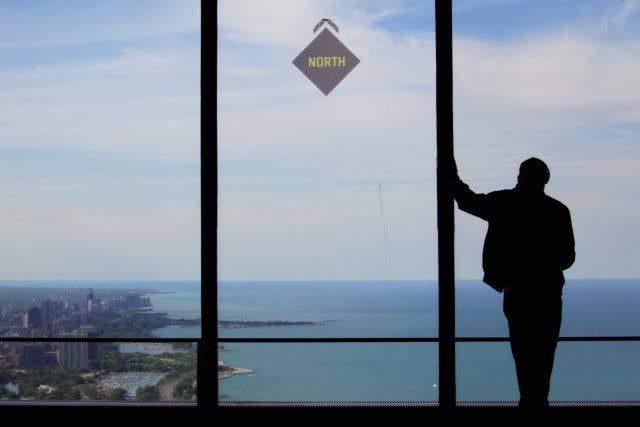 Curtis looking out at Chicago from atop the Hancock building
Do you remember final exams?
It was that dreaded time at the end of each semester when all teachers expected you to review and remember four and a half months worth of information.
"What's the definition of alliteration? I don't remember what I had for dinner last night," they muse.
But sometimes it is good to look back and remember, to look out on that vast amount of information that has been discussed and committed to memory, to consider the details that are most important in the midst of a lot of bits that can be laid to rest.
That is what finals are really about.
Even as I write exam and review sheets I am in the "finals" era of my stay in the Midwest. I find myself committing so many things to memory:
The smell of the stairwell in our apartment
The sound of the birds in the morning
The fall of the tree branches on my favorite running route
The feel of the warm breeze in the evening
We have already said so many goodbyes, and will continue the gauntlet as the departure date draws nearer. The tears have flowed freely, accompanied by smiles and joy grown in great memories that will be savored long after we have set down new roots elsewhere.
Yes, there is something wearing about gathering and studying all that has been important these last eight years.
But resting in the bounty of rich experiences that we are taking with us abroad is gratifying, indeed.