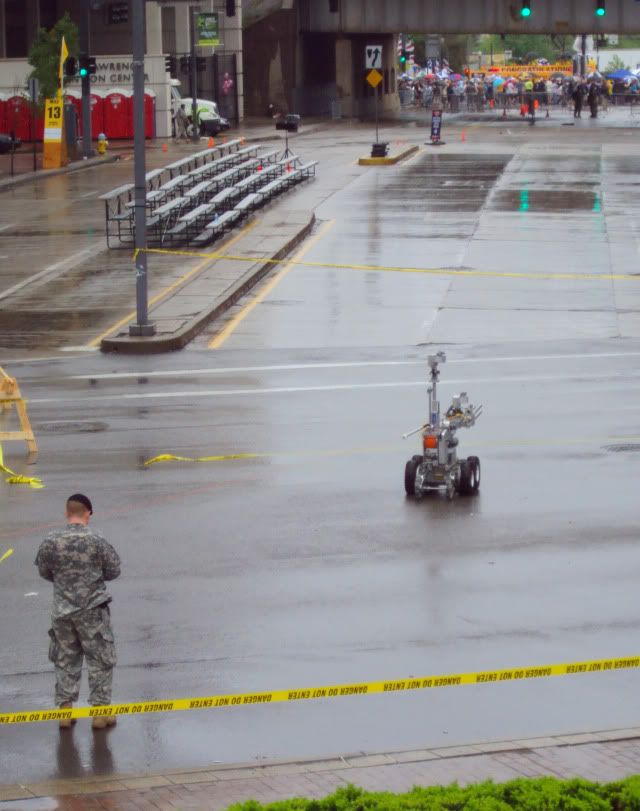 For a long time I have often looked at unplanned circumstances as the makings of a "good story".
I am a person that loves a plan, but often the most memorable experiences come from events I never would have expected.
This weekend I traveled to Pittsburgh with Curtis and his parents, who are have come to visit for his graduation. This marathon has been in the works for a while now, and though the training that Curtis intended to accomplish in preparation for this race fell far short of his expectations, he chose to continue the race as planned, hoping for the best.
The weather report for the weekend called for thunderstorms when we checked it a week in advance. Hopeful as we were that the prediction would change, the reports held steady, lightening only to "showers" and not "thunderstorms" the morning of the race.
The race went off as planned, with 16,000 runners and walkers out to attempt a marathon, half-marathon, or to participate as part of a relay. The sea of bright and fluorescent clothing was mesmerizing as they set off into the growing daylight, but all colors were muted when the rain started fifteen minutes later—and didn't stop for hours.
I ran around with the Mr. and Mrs. for a couple hours from place to place on the course, growing increasingly wet and sweaty and tired, watching Curtis do the same.
When it came time for Curtis to finish, we planted ourselves under a conveniently located bridge, and watched the first few finishers trickle in. After about ten minutes an officer informed the spectators that we had to move down the road, out from under the bridge, to observe. Dismayed that the move meant more rain on our parade (literally) we reluctantly moved down the road, further from the finish.
A couple more finishers trickled by which were then followed by two cop cars, which went screaming by us in the other direction. Confused by their speed on the running course, we were further concerned when one car proceeded to block the course while the other proclaimed over the loud speaker that the finish was being rerouted.
Distressed about possibly missing Curtis's triumphant run down the final stretches of the course, I ran down past the cruiser just in time to see his exhausted frame turn the corner. Mr., Mrs. and I made it down to the finish, helped Curtis don his warm-ups, snapped a few pictures, and then turned to hike the downtown streets back to our hotel.
As we walked up the road away from the finish, we were met with security personnel hastily assembling gates to block the road. When we tried the recommended alternate route, we were shut down again, each time amusing ourselves with Curtis's ginger stride being forced to walk just a bit further.
Eventually we were routed up and over the bridge (which had previously offered short term shelter), only to be bombarded with an onslaught of livid half-marathon runners, who had also been rerouted.
At this point, our curiosity was piqued: why the rerouted course? Why the unfinished half-marathoners? Why the barricaded roads?
Our questions were all answered when we exited the bridge to find a large, clearly marked vehicle labeled BOMB SQUAD.
I guess that does excuse the chaos.
We lingered to watch the bomb-defusing robot seen above (which surely has a less descriptive and more official name), until it was determined that we should hurry back to the hotel to shower our rain and mud covered bodies before checkout, so we could journey back home as warm and clean individuals.
We reluctantly left, glad that we had not only been safe (despite our ignorance) but that Curtis's race had been largely unaffected by the whole ordeal.
--
As I told this story to my eighth grade students this afternoon, and drew the diagram below, they laughed at my exaggerated frustration, and asked questions that I assured them would be answered by the end of the story. We discussed conflict, climax and resolution as necessary elements of story (as they are currently working on writing their own) and the reality that not all stories workout with happy endings.
There are not many times when I wish my life were "more lively" or "more exciting". I feel like I pretty effectively fill it with duties and tasks that are fulfilling and meaningful, but also entertaining. But experiences like this remind me that so much of my life is out of my control, and that events can change without warning in an instant.
Though in the end this turned out to be nothing more than "a good story", I am thankful for brief reminders of safety, of peace, and knowing that the best laid plans, while not always coming to fruition, can still turn out just fine.