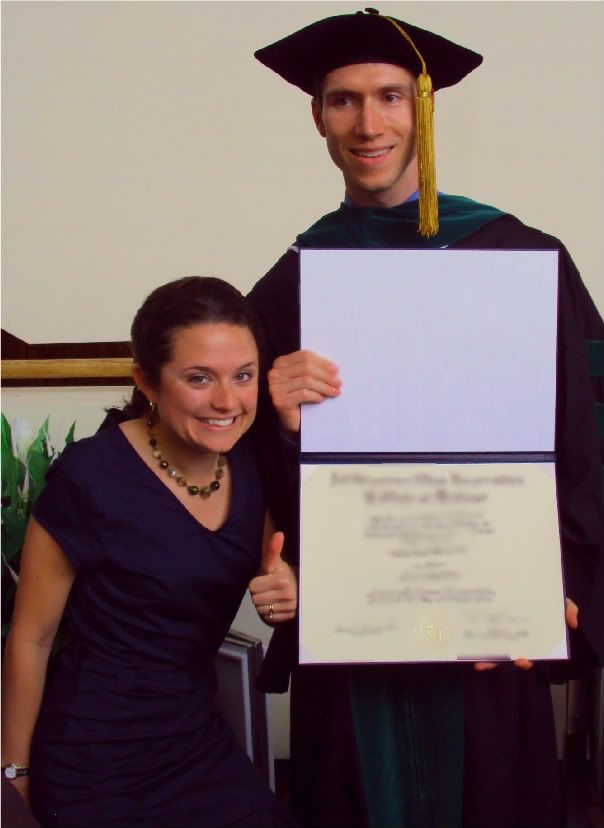 Curtis, in his ridiculously wonderful attire...

This past Saturday bordered on perfection.
I woke up to a sunshine filled room, and even though I was exhausted from yet another late night playing cards until all hours of the night with Curtis's brothers, my mind cleared quickly: today is the day he graduates.
We joined his family for breakfast at 7:30, and headed up to the hall for graduation within the hour. The doors opened at 9 (for a 10am ceremony) and you would have thought we were waiting for seats to a rock concert with how aggressive people were in staking out and claiming seats.
Apparently medical school graduations are a big deal.
We followed the ceremony with a large lunch with most attendees, after we found a place that could accommodate a party of twenty. The poor waitress labored endlessly to get our attention for every task she attempted: drinks? food? more salad? more bread? We were so engrossed in catching up amongst ourselves we hardly noticed her frazzled attempts to keep our cups filled to the brim.
Nearly three hours later, well into the afternoon, we said our goodbyes and went our separate ways. An hour later I had to head to the local ballroom for Prom, because yes, I do still attend high school dances.
The students were self-conscious and coy, and I watched absently as my mind wondered to other times and places. Has it really been so long since I lingered around the edges of high school socials?
Time passes so quickly, and yet another chapter has come to a close. Twenty years from now I may not remember all the details of this piece of life, but graduations--like so many celebrations--are a perfect occasion to pause for a moment and take in what has been accomplished.
And so from here we press onward, to new people and places and challenges.
May this chapter be just as satisfying.