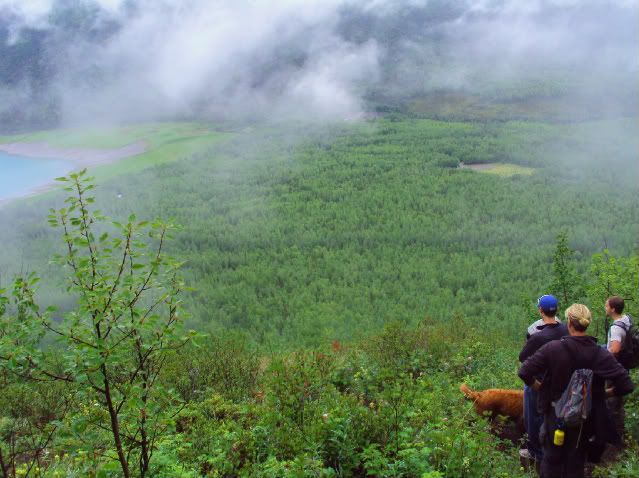 Curtis and fellow docs taking in the mid-hike view...
As Curtis and I drove out to the camp-out this weekend
, I was overwhelmed with "being back": the mountains, the green, the expansive land. It is so different to live in a place when twenty minutes is enough to transport you out of the city and into the wild. It is also so different to live in a place where an overnight camp out in an area patrolled by rangers warning of nearby bears is REQUIRED. Don't get me wrong, it was an enjoyable outing, I just thought the fact that it was required was pretty much hilarious. Also required in the curriculum? Sleeping in a snow cave you built yourself (stay tuned for that episode sometime in December...).
We arrived on Saturday morning, and as would be expected, the rain wasn't going to ruin the parade. There were hikes to complete and lakes to see and weather was not going to be factored into the equation by anyone. Unfortunately, it quickly became obvious that I've lost my touch in these wilderness adventures. We were readying to go when one of the other hikers asked "does everyone have their bear spray?" Shoot. I think I left that in Ohio.
There were lots of reminders that I was the one acclimating into life here in the wild over the course of the weekend. My thick fleece gloves were a dead giveaway that my body had already adapted to 80-90 degrees for the summer, and the obvious cocoon of layers I shed as we hiked the nearest mountain was laughable. Another thing that left Curtis and I as the odd ones out? We had zero wolf-looking dogs sleeping with us in the tent.
The introductions and activities lasted well into the evening, complete with the roasting of graduating residents and toasts to others off to new adventures. As we settled in around the campfire for the evening, toasting the largest marshmallows I've ever seen, I looked around and wondered what this next year will bring.
And so begins our acclimation into this new place, this new life.
Things to pick up at the store:
gigantic marshmallows,
bear spray,
wolf-looking dog,
job.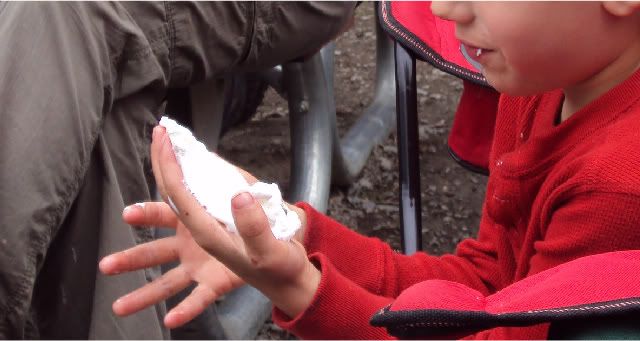 One of the kids thoroughly enjoying his marshmallow...