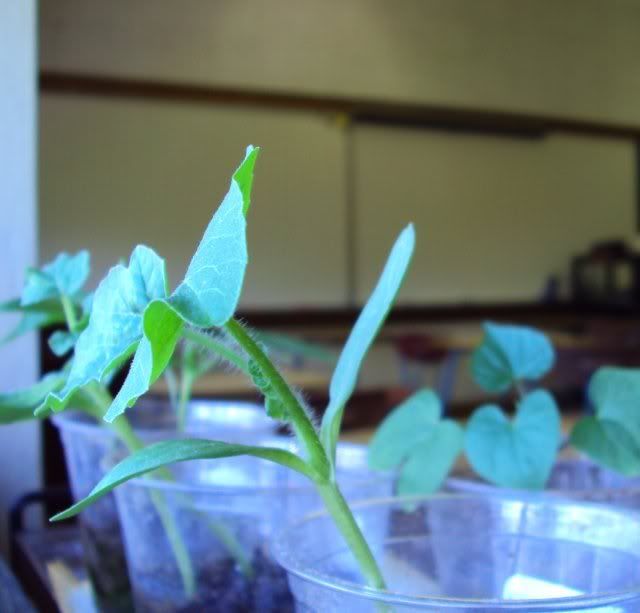 Seedling sprouts yet to be claimed by students...the last signs of life in a very bare classroom.
The cupboards are truly bare
...as are the shelves and the closets and the walls. Last week we sent off the moving van with many of our possession, and yesterday I cleared out my classroom and packed up my bags to move in with friends.
I am officially a vagabond.
With the temperatures continually above eighty I have been rotating the same three shirts and two skirts in various combinations for the past two weeks, which makes getting ready in the morning as easy as the flip of a coin.
I feel like I'm back in college, carrying my toiletries to and from the bathroom as I venture in to shower and staying up late chatting with good friends because it's easier than tearing away to go to bed.
But then I wake up and unlike a college student I drive to my job, unlock a classroom door that sticks in the frame because of the humidity, store my bag in a closet now empty of any of my belongings, and load my e-mail at an address that will soon be void.
These are the last few fingerprints I leave behind before my final departure.
I lingered for a moment when I left my apartment, all duffels and boxes remaining packed carefully in my car.
Goodbye gold couch, and beautiful bookcases.
Goodbye screened in porch, in which I graded papers and read books in the comfortable fall evenings, listening to the crickets nearby.
Goodbye quaint kitchen, where we would cook pancakes from scratch on Sunday mornings before church, catching up on the happenings of the week.
Goodbye first home of my marriage. I will always remember the mice we caught, the fuses we perpetually blew, and the beautiful simplicity we found.