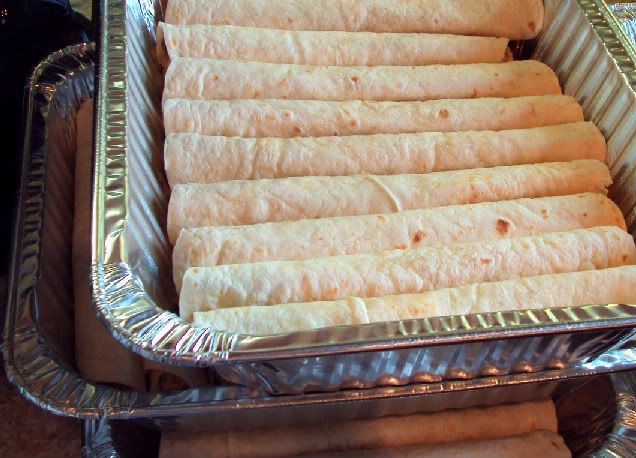 On Sunday, four days before the true transition, my sister and I organized all sorts of people together to celebrate my mom's birthday.
We sent out secret invitations, made six dozen enchiladas, hung streamers from every corner of the room, and waited for the moment of truth.
"Your mom is no dummy" a friend's dad commented to me as I rolled tortilla after tortilla the afternoon of the gathering, wondering if we would actually pull off a surprise.
It's true; she's not.
But there was no question when she came around the corner at the party that she had no idea the scheming we had done.
"What are you doing here?" she asked incredulously to a group of excited people "And what am I wearing?" she followed it with, ever aware that she wasn't appropriately dressed for the occasion.
Later as a blurry-eyed, post call Curtis pulled me away from the constant conversation he made an interesting connection.
"Do you know what your mom's response reminded me of?" he said quietly as I finally served myself some food.
"What?" I responded curiously.
"The night I proposed," he concluded, smiled, and walked away.
And I would be guilty as charged. The night he proposed I was caught off guard, convinced I was sharing in an informal birthday dinner for the mother of a friend. I'd had a long day at work, had squeezed in a cold run out in the snow, and in the rush to get ready for dinner had thrown on a long sleeved t-shirt…which so conveniently matched—his tie.
The party was a hit, the enchiladas were aplenty, and I can now add my ability to make a Mexican dinner for fifty to my resume.
If I didn't have a job already, surely this would seal the deal.
Happy Birthday, Mom. I'm glad we both love enchiladas.