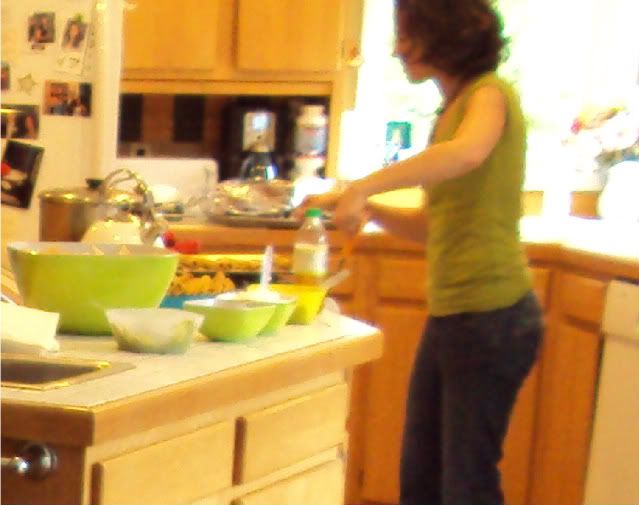 Preparing for my mom's surprise birthday party, where we served all kinds of Mexican food...it was a good day.
I feel awake and rested for the first time in several days
,
which could be because I was in bed by 8:20, and asleep by 9 on a Friday night...and then didn't wake up for eleven hours. Despite the sleep, the exhaustion of an overflowing schedule seems to haunt me on a Saturday morning when I have no plans or commitments. Should I go to my brother's basketball game? Bike across town to visit my sister working at the coffee shop? Read for pleasure? Make an apple pie? Unpack and organize? Iron?
A week full of activities both chosen and necessary has left me with little free time. Now that I have a few hours to myself, I feel like a kid in a candy store: what shall I eat?
Last night, after a day of distracted giddy students, and chaperoning the junior high
dance
that made them unruly all day, I wandered around the grocery store trying to make sense of the aisles, asking myself the same question. The answer was clear to me: apple pie. But since I am practical even in my most exhausted and hazy existence, I also bought lettuce (found to be rotten at home), oatmeal and a frozen pizza.
After all, everyone knows you can't have apple pie for dinner.

And so this morning I realize that my extreme exhaustion last night was not all a loss. I have now found a new item to add to my list of "foods that make me feel better when everything seems to be a bit too much". Other items on that list? Fried egg sandwiches and almost all Mexican food.

Next time we have a junior high dance I think they should serve apple pie instead of nachos and pizza. It would be a big hit.

(And then maybe next time I will win the teacher dance contest...)