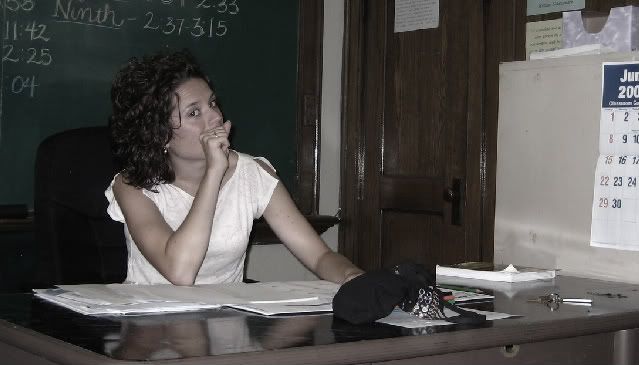 A summertime visit to my classroom back in Ohio, back when tank tops in the summer were still an option...
I recently graded a very large batch of eighth grade stories.
These essays, which were written in response to my request that they "tell me about a personal experience that taught you an important lesson" tended to fall into three main categories.
First: Lessons About Safety.
Since majority of my students have lived in Alaska for a while, with quite a few of them having spent some time in rural towns and villages, their experiences with large machinery at the age of fourteen is quite extensive. I read stories about four wheeling crashes, snow machine crashes, even car crashes (because who enforces driving licenses when you're in the middle of nowhere and there are hardly any drivable roads?), which made the stories about bike crashes seem like child's play. They all tended to end with the same trite statement about "wearing helmets" or "not taking dares" or "watching where you're going" and after a while were very anti-climactic. This lack of suspense was not the case with the second set of stories.
Second: Lessons About Loving People.
I was surprised at how many of my teenage students are missing parents. These stories were often twisted and confusing, with many of the writers giving me the feeling that the topic was too difficult to write about with good detail, but too meaningful and fitting for the prompt to write about anything else. I often finished these stories trying to trace the pronouns throughout, getting lost in the "he did" and "she left" and "he never called" and "I haven't seen her" statements throughout the story, sometimes applying to one parent, sometimes both, sometimes applying to mutilple relatives that have been present for only a short while only to disappear. The students often struggled to pull lessons out of these stories, often ending with some general statement about "not taking people for granted" which I knew hardly covered the emotions associated with the tale. This was a story that was far from over, a story that would never fit under the umbrella of not appreciating someone enough. And while some students tried to make meaning of deep and complicated events completely out of their control, others recounted tales of obvious missteps.
Third: Lessons About Doing What You're Supposed To.
This third category was a bit more developed than I would have expected, given that I'm their teacher and all. I guess I didn't expect the paper writing process to turn into a confessional on all sins committed great and small. After reading papers about everything from bad grades, to sneaking out, to drinking underage, to inappropriate games of spin the bottle, I'm pretty sure I will lock my theoretical children up before they hit this age. Much like the lessons on safety, the lessons tended to manifest as closing statements that all sounded the same: "And now I know to never (insert sin of choice) again."
Today is the end of the first quarter,
and thanks to this deadline I have everything graded and posted for the helicopter parents to check online tonight, and the negligent parents to ignore even when mailed home. So what is the lesson I learned from this personal experience? Wear helmets when operating any machinery; always watch where you're going; know that every student could have an unstable home.
Oh, and never put off grading 120 stories until the last day again.