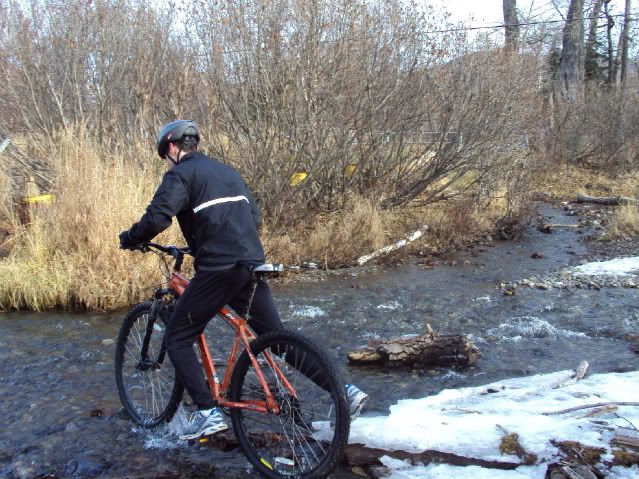 When my teaching pal from Ohio called this evening,
I reported that my Sunday afternoon was feeling quite productive: 90 minutes of ironing, a load of folded laundry, dinner in the oven, and a loaf of banana bread on the way (in addition to
the apple pie
made on Saturday). In response to Curtis's yell from the background that he has "the best wife ever" she commented that I was quite the domestic one this weekend. "Right now I am," I told her, "but you should have seen me three hours ago when Curtis took me on one of the roughest mountain biking outings of my life, involving a hill steep enough and rocky enough that both of us had to walk our bikes a significant way down, only to find a large creek to cross over the next hill."
Did I mention this creek had snow and ice gathered in the midst of the rocks?
It was then that I started to feel like someone with multiple personalities. I could easily spend hours in a book store, or hand stitching a quilt, or
grading eighth grade papers
, or baking in the kitchen, or mountain biking through icy creeks. While I would choose some of those options over others (depending on the day), I can appreciate that at the end of this weekend I felt like I truly was able to exercise many pieces of myself.
"Why can't we do what we want to do?" my students sometimes ask me. And sometimes, when I'm feeling exceptionally honest, I confess the truth: adults don't often get to do what we want to do either. Sure, I chose my profession, and many of my commitments, but even tasks you choose can become a burden at times. I don't always love grading papers.
I don't always love coaching
. I don't always (pretty much never) love ironing.
While I've been baking and cleaning, Curtis has spent much of the evening reviewing paperwork for his job, and now I can hear him listening to audible suturing instructions online in preparation for a surgery rotation. Our time, even when "out of the office" still isn't fully ours.
Perhaps that's why today felt like a gift: soaked frozen feet, messy kitchen, laundry strewn bed and all. Today was a day I chose to fill with activities that suited my fancy.
Tomorrow I will teach classes, coach a team, work out, eat, and crash into bed. Tuesday will look like much of the same. And even as I find much joy in my work, I may find myself day dreaming during the week of adventures that are off the proverbial path, excitedly awaiting the weekend so that we can be in the wild again.