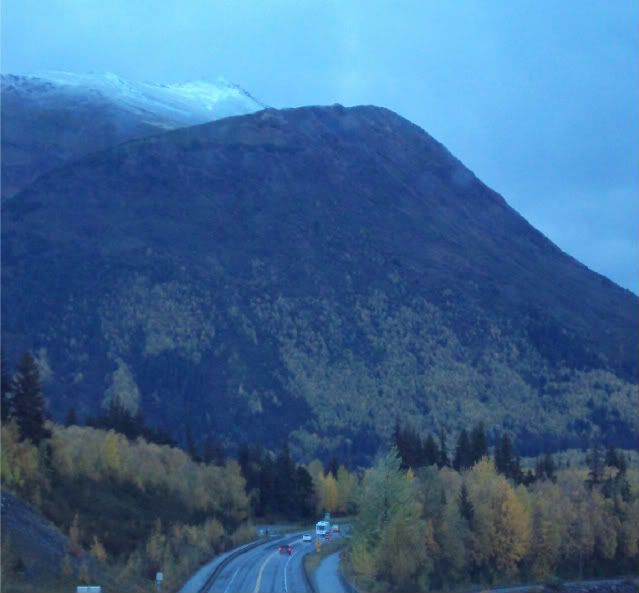 The drive out of town on Friday night: A breathtaking mix of autumn and winter, sunshine and rain (which this photo clearly doesn't do justice)
When I climbed into bed at 1am on Saturday night, I have to confess I was quite pleased with myself.
I can't remember the last time I willingly stayed up past midnight.
Make that 9:30pm
These days the hectic schedule of teaching + coaching + grading + unpacking = exhaustion.
This weekend found me shuttling back and forth between being in and out of town. In town Friday for teaching and practice, out of town Friday night to join Curtis and his co-workers for a retreat. In town Saturday morning by 8:45am for the cross country state meet, back at the retreat around 6pm for an evening of games and a spontaneous dance party. Back in town Sunday morning to camp all day at the condo being productive.
Four loads of laundry, a lot of unpacking, one outing to run/bike in the sunshine, and one attempted craigslist entry later, I had a lot of clean clothes + several empty boxes + a little bit of exercise + one treadmill that apparently no one wants--even if it's free = one very satisfied (albeit exhausted) lady.
Today I found myself mesmerized by the mountains again, examining the snow caps as they creep down the sides with its fresh, clean white. As I ran outside in the sunshine, I found myself wondering if the 50 degree temperatures of this afternoon will be a memory all too soon, wondering if each day above freezing with be the last.
Snow is fair game in October, after all.
But as I welcome the snow and cold of October, I also welcome a bit more of a relaxing schedule, a bit more time to read and cook and quilt.
And, you know, occasional late nights.