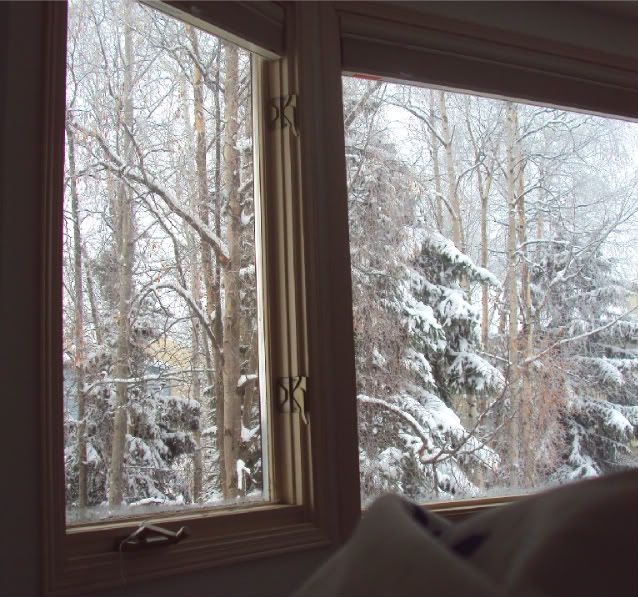 The view from my confinement in bed....
It's been a bit more quiet than normal around here
, thanks to the lingering effects of my latest illness. I lost my voice on Friday afternoon, in the locker room waiting for the gals to gather their belongings and head home for the weekend. I looked amongst the abandoned Uggs and forgotten orchestra instruments, but it was nowhere to be found.
More than two days later, it's still AWOL.
Despite the abandonment of my voice, I started to feel better Friday. With my energy level nearly normal, I was looking forward to a weekend of catching up: laundry, unpacking our last three boxes, grocery shopping. But more than anything, I was looking forward to getting out on the trails for the first ski of the season.
Saturday went as planned, a mix of unpacking, fresh air, and four loads of laundry. Unfortunately, sometime Saturday night I took a turn for the worst, leaving me exhausted all day Sunday, and forcing me to skip another round of skiing on a sunny afternoon.
Despite my frustrations with a sickness that is now on day seven, a weekend with minimal speech left me feeling quite reflective. Listening has never been my strong suit, but when left with the choice to listen or struggle to squeak out a few words that are difficult to comprehend, I usually choose the former.
Thus I became an observer, helpless to participate even when my husband and brother-in-law conspired over dinner to tease me shamelessly because I couldn't defend myself. In some ways that was freeing. I tend to suffer from a need to always participate. This need could be the reason I have been sick for a week, is probably the reason I agreed to coach volleyball, and is unfortunately the reason I am not always the best listener.
Of course, there's always time to learn to slow down and appreciate things a bit more rather than always feeling the need to be on the go. A week long sickness may be the perfect classroom for such a lesson.
Now, if only a weren't such a reluctant student.