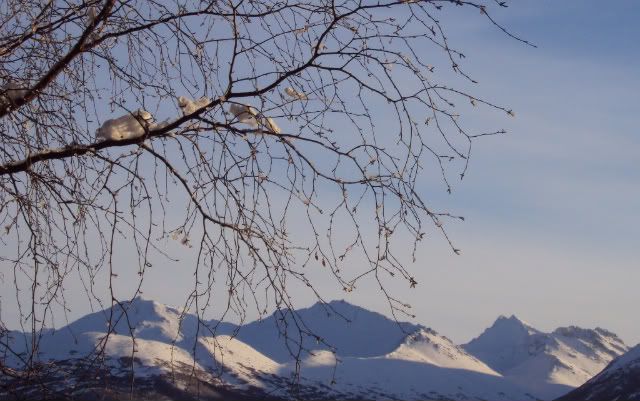 Another fresh coating of snow last night...
My favorite thing about the weekend these days is watching the day come to life.
During the week I drive to work in the dark, and the sun has long since set by the time I leave school after coaching practice. The two windows in my room face a brick wall, and the only way to "see" the daylight is to get close enough to the window to angle your view out beyond the building.
This is not something I have time to do very often.
Today my life finally slowed down a bit. The past five days found me coaching three practices and two tournaments, teaching 25 classes, and trying to keep up with a few simple details of my life in the mean time. Now that it's the weekend, I finally feel like I have time to do more complicated things like put my clothes away, clean the bathroom, go grocery shopping, and exercise.
With Curtis working (and sleeping--when he can) at the hospital this weekend, I spent the night at my mom's last night, waking this morning to make cinnamon rolls to accompany hours of Christmas decorating. I haven't helped with such things for a few years now, and my sister, mom and I unpacked decorations of varying ages, telling stories and old jokes as they triggered memories. It was a morning of sentimental goodness, leaving the house shiny and glowing.
Now that I am back at the quiet, cold and not-very-sparkly condo, after an afternoon outing to cross country ski with a friend, I am curled up in a blanket, trying to decide what I should do first: Run errands? Clean the bathroom? Put away clothes? Figure out a plan for dinner? A morning of sweet pastries, Christmas music, and ornaments leaves an afternoon of productivity looking quite glum and dull.
Who needs groceries or a clean house when I can go to my mom's winter wonderland?
Evasion. That is surely the answer. I guess when it comes down to it, Christmas truly does bring out the inner child in me. Just for a month I would enjoy living under my mom's roof, eating her food, and enjoying her decorations. It would make me feel a bit less responsible, like I'm not in charge of way too many teenagers most days, like my toilets will clean themselves.
It would be a Christmas miracle.
(Perhaps I should break the news to Curtis after he's gotten more than two hours of sleep...)