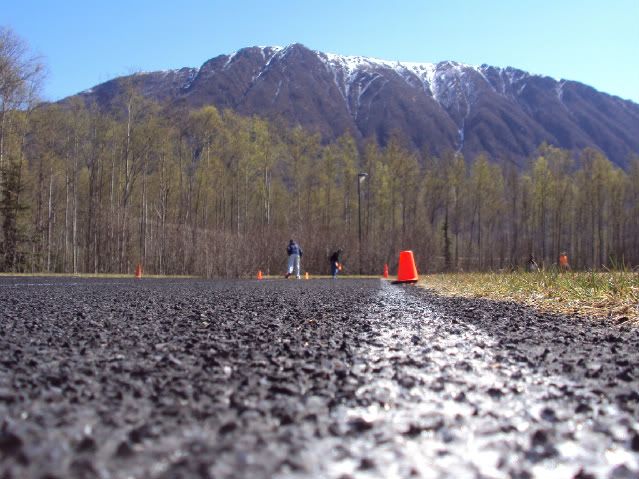 And just like that, the season ends.
The jackets are returned; the hurdles are stored away. And in a couple days, all I have to show for it is a file of paperwork and face still flushed from wind and sun.
Three meets in one week is brutal on anyone's energy level, but when the third day turned out with 60 degree warmth, a clear sunny sky, and barely a breeze, I found myself more than happy to spend hours in the infield of a track in shorts and sunglasses. We had some great performances, a couple photo finishes, and more than one disappointing finish. Yet, it's easy to feel satisfied with a job that is challenging, but completed.
Perhaps the best part is that green arrived this week: in blades of grass still buried in a brown infield, in buds on the branches that are slowly coming to life, in the line on the horizon that used to be barren and sparse. It is lovely, and rejuvenating, and reminds me to seize the moment. One moment the trees are bare; the next they are exploding.
Blink, and snow may be back on the ground once again.
There is still much to be done between now and the end of the school year, now and the end of the month, now and our visit to the friends we left behind one short (and long) year ago. But this is a good life: teaching, track meets, soccer games, Sunday lunch with my family after church, catching up with Curtis while we bike the trails around town.
The tempo of my life will shift drastically in a week, from a meticulous schedule packed and overflowing to days with space and flexibility, free time, and options. Sometimes I struggle with this summertime existence, especially as I watch Curtis clock unhealthy amounts of hours at the hospital. Sometimes I revel in the beauty of reading in the sunshine, hiking my favorite trails, and preparing leisurely meals that take planning and organization.
Today while I folded laundry I stared at the trees outside my window and closed my eyes when the fresh air blew in the window. Cleaning up the piles that have accumulated during the week has become a Friday duty, trying to make space for a relaxing weekend, desperate to slow the pace for a few hours now and then. Next week will mark a new rhythm, and everything outside seems to be ready for the change.
I know I am.