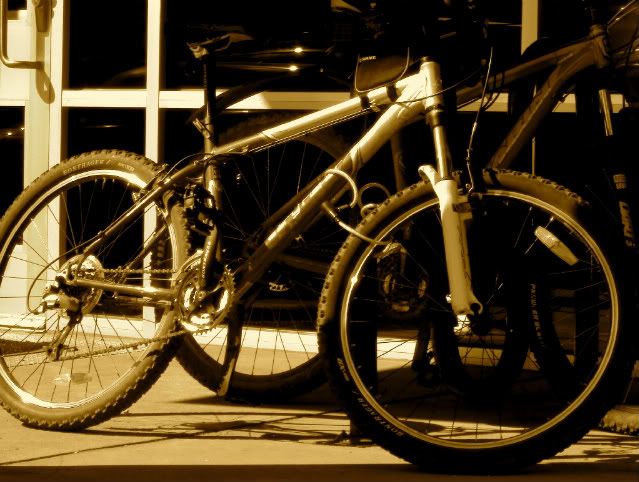 On Monday the car sat in the garage…almost the entire day
. We have been a one-car family since my brother got his driver's license this spring and we handed over
the beloved family suburban
. Since then Curtis has been commuting to work via bike, and I have been silently jealous. Despite the muddy face and extra coordination that come with a bike commute, I often wish that I lived a bit closer to my work, or that my hair looked a bit better after being stuck in a helmet. Since neither of those is changing soon, I settle for biking all over the city while class is not in session.
This biking frenzy started (or rather resumed) the first day of in-service: bike to work day. I'm typically opposed to anything so stereotypical as biking to work the one day that everyone in the city is doing the same. It just so happened that I had decided to bike that day before I read that it was an official city event, before I heard that they were serving bacon at major intersections in town, and before I saw the t-shirts. I was biking because it was the first day that I didn't feel the need to dress professionally. Unfortunately, I didn't have the forethought to make a t-shirt to proclaim my circumstances to the countless passing cyclist.
I guess my motives don't need to be defended because the biking has continued this week: to the class I'm taking to keep my teaching license, to a friend's house to visit, to Curtis's work to meet him for dinner (where our bikes were locked up together on the rack, looking like quite the pair). It helps that the sun has been shining and the temperatures superb, but the reality is that this is a summer tradition for me. It started with sharing a vehicle with my siblings, continued when coming home for the summer from college found me vehicle-less as well, and now it is my favorite way to revel in a leisurely schedule.
When I bike, I know I have time to enjoy my surroundings, even if it's rain. As long as we don't break the
rain record
again this summer, I think the biking tradition will keep going strong.
It's definitely one of my favorite summer things.