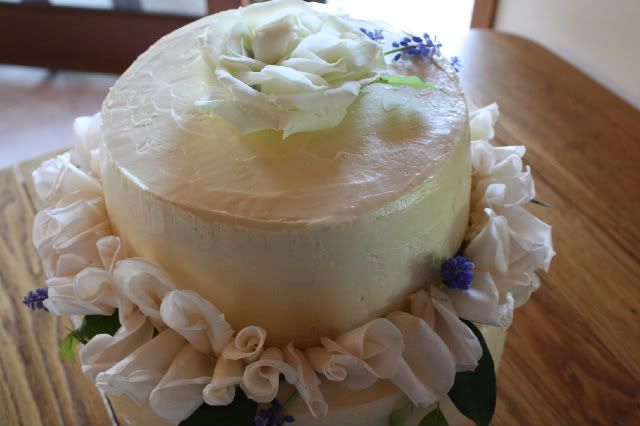 A cake that tasted even better than it looks...hard to believe, I know.
Every year when I approach the summer
I dream of all that will be accomplished: I will run more, write more, read more, sleep more, cook more, and just enjoy everything...more.
I realized today while biking back from my mom's house that it has been a week since I've sat down to write and there is one very good reason for the summer hiatus: a wedding. This past holiday weekend my mom married a wonderful man and our family of six has expanded into a family of ten. Many a flight, meal, and food preparation occasion later, the festivities have come to a close and the last of our visitors are flying out.
Even though writing has been neglected, there is one thing that has been happening in earnest: eating. If there is one thing our family can all rally and get behind, it's a good meal. There are so many plates and containers full of uneaten goodness I am almost sad that we are headed out of town very soon...
...but even massive amounts of food couldn't tempt me to stay. We're off to the Midwest to visit so many of those we left behind last June when we picked up to move. And spectacular weather or not, we're taking a break from all that makes Alaska summers amazing to get out and take a break.
Let the summer travels begin.