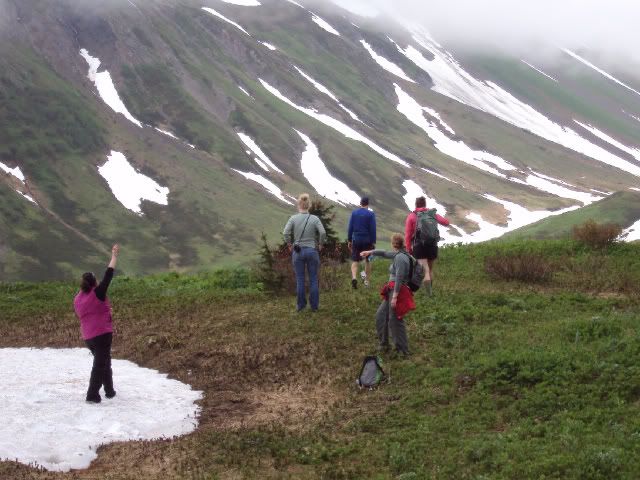 In the midst of Saturday's hike...
One year ago I flew in on a red-eye flight
, squeezed in a couple hours of jet-lagged sleep, and headed out to the annual resident campout. It was rainy and cold (by Ohio standards), and my sleep-deprived state did little for my love (read: disdain) for surface chit-chat.
Unfortunately, most relationships start with surface chitchat. 36 hours of rain later, Curtis and I headed away from the campsite and compared mental notes. "So-and-so seemed nice." "Yeah. What's-her-name's husband is a teacher." "I know…and the other girl's husband couldn't find a teaching job." Basically Curtis knew everyone's name from two weeks of orientation, and I was trying to match people to names based on hair, height, camping attire and dogs.
The gal with the green coat had two kids and was married to a lawyer.
The guy with the two wolfish dogs and two equally crazy kids was wearing a hat from a Midwestern college team.
Instead of dreading the onslaught of small talk this year, I looked forward to meeting up with people I hadn't seen in several weeks and months, due to busyness, travel, and life. The weather was agreeable, with rainy spells only occurring in the middle of the night or late evening, and though the constant light dispelled by the tent nylon made for less than constant sleep throughout the night, the excitement of getting up to have breakfast and lunch and dinner, and hiking with people who are my friends (rather than strangers), made me feel like I was back at summer camp, away from home and free to play and share stories.
In real life, we have jobs and responsibilities that keep us from staying up late at night playing volleyball on a sand court with a beach ball, playing rounds and rounds of catch phrase around a campfire, and hiking for hours in the wilderness with a backpack full of snacks and a couple cans of bear spray. At the campout, everyone is off for the weekend, and the number one goal is unsaid but felt deeply: develop relationships and be rejuvenated.
As we pulled out of the campsite this past weekend, headed back for Curtis to catch an overnight shift, we couldn't help but comment on how far we had come: one year, arguably the worst of residency, nearly completed. This year has been one that is very full: new jobs for both of us, new friendships established and old ones renewed, a condo purchased, a community established.
Today we will attend the residency graduation and bid farewell to a class of doctors that will head off on their own professions, officially done with training as they readily admit how much more they have to learn. Many of them have trips planned for personal solace and renewal before starting their official careers, and all would admit they are ready to go out and be independent of a program or schedule where they are slaves to the hospital.
Today as I watch the slideshow and socialize with guests I will have one eye fixed on the future that will soon approach, a graduation in two years that will come with many decisions about who and what and where. The other eye will be remembering how far we have come and how quickly it has passed, because even as this year has been exhausting and grueling, it has gone quickly.
And two years from now, two campouts from now, the people graduating will be us.