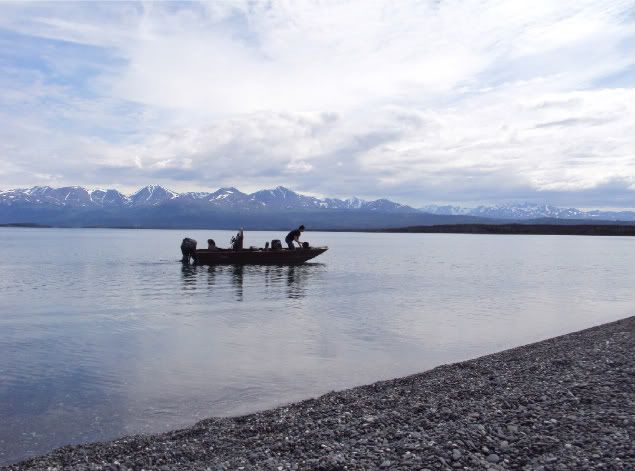 Curtis using the boat to rescue a stray frisbee, when the glacial waters proved much too cold to swim out...
Last summer I came to appreciate the privilege of having a place to call my own
after
four months
of suitcase packing and relocating. This summer, two weeks and two days away seem to have done the trick.
I flew back from Ohio last Friday, watching the sky fall to night and come back to life as we headed Northwest. Landing at nearly 2am, the sky still held streaks of fluorescent light reminding me (if I'd forgotten) one thing that Alaska would always hold over Ohio—the summer midnight sun.
Twelve hours after landing I was back on the road, on my way out of town to meet up with Curtis, who had flown back early to get back to work. After 4.5 hours of sleep at home (coupled with 4ish hours on the plane, interrupted regularly by an infant very displeased with this whole flying business), I was anxious to nest in my home again—if only for a few hours before heading out again.
The bathrooms were scoured, the bags unpacked, the clothes laundered and everything tidied. Post
wedding
packing two weeks prior had left me with few moments to reign in the chaos before heading out of town, and I had every intention of making up for lost time.
The weekend was wonderful, filled with good company and good weather, lazy mornings, generous meals and a rocky beach so warm I was wishing I had a swimsuit to lounge around in. We rescued Frisbees from freezing lakes, layered and braved the rain when the blazing sun was replaced with clouds and wind, and watched ducks corral their ducklings away from looming eagles.
I woke this morning to the sound of steady rain on a metal roof, and found myself making plans for the summer. The season started with whirlwind, continued with a vacation, and now I am ready to settle into productive projects I've been accumulating in my mind since we moved into our condo nine months ago.
As long as the weather isn't 75 and sunny, I hope to make some serious progress.