I found this quote this morning and immediately did a self-evaluation
: "Ashley, what are you not appreciating that you could be?"
I'll tell you what I wasn't loving: the cloudy/misty/rainy concoction that was brewing outside, rotating approximately ever 47 minutes but never letting on any hint of sunshine.
Yesterday, you see, had set the bar high. Yesterday the sun came out with such fervor that I put on shorts and a tank top and sat outside our apartment to work on online course work. The glare was strong, but I persevered, determined to be out in the sun as much as I wanted. After an hour I was so hot (and so un-sunscreened) that I ventured back inside. This also may have been due to the fact that while reading notes from a very dark screen works okay, taking a test when you're not exactly sure what the question says is not as good of an idea.
And what happened? The sun stayed out—all afternoon and evening. Curtis and I ventured out for a walk later that evening and the heat remained. The horizon was beautiful, the tundra was green, and the streets were plentiful with smiling faces fit to enjoy the miraculous weather that should not be taken for granted.
It was too good to last, of course. Today I woke to the sound of construction on the neighboring hospital at 6am, and peered outside to see a dense mist forming a dark fog around the premises. The ubiquitous rain clouds had returned to their typical places, ready to set up camp for another few weeks, I'm sure.
As the morning turned into afternoon and the clouds refused to offer any hope of breaking, I did what is often a good remedy for dark, rainy days: I made some good food. Leftover spaghetti? Thank you very much. Garlic, cheesy toast to go with it? Yes, of course. Find a good recipe to work on this afternoon? Sounds like a marvelous idea. After all, if the weather is heavy and the tundra is looking particularly damp, a kitchen full of supplies is an excellent source of entertainment—and certainly worth appreciating.
Now to decide on a recipe…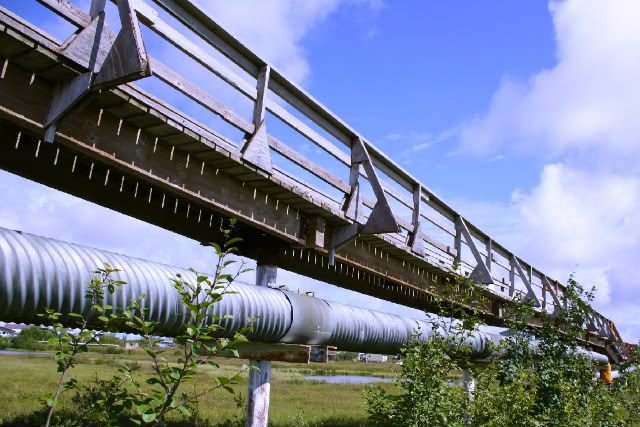 Wednesday's blue skies, which were suprisingly replicated Thursday evening as well...