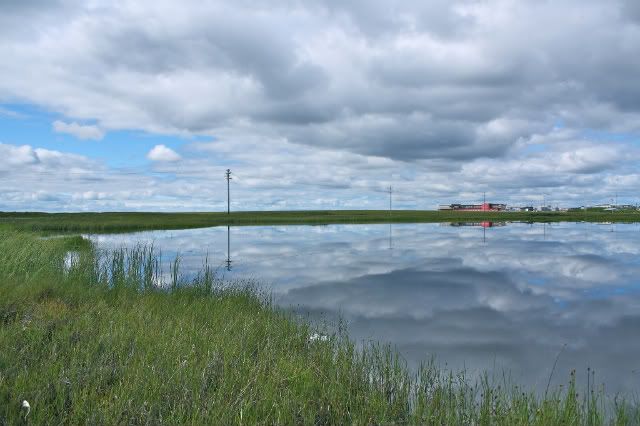 One of the parts I enjoy most about being in a place I have never been is exploring
: looking around, taking in the scenery—both creator and man made. Head a few hundred miles West in Alaska and you find a place that looks nothing like "stereotypical" Alaska: flat, open land. Many villages throughout rural Alaska are set up on rivers, and this one is no different. Before planes, the water was the primary means of travel. It takes you out to the ocean to fish or further inland to visit other villages. When it freezes it is still a valid highway, offering a route unencumbered by foliage—not that the tundra brush is much to be trifled with.
Curtis and I have ventured out on several adventure walks since I made my way in. We have walked to the grocery store, along the riverbank, and out into the tundra—flat wilderness that extends like farmland in the Midwest, as far as the eye can see.
It's easy to happen on small treasures when we're not looking for anything in particular: decorated dumpsters proclaiming inspiring messages, abandoned jeans in the midst of tundra with no apparent sign of ownership, a local teen burning letters not far from the post office, explaining with a smile to us that he has no interest in reading them.
Everywhere I go it is more than apparent that life in the village is unlike any place I have lived, from the grocery store prices that cause any casual out-of-towner to do a double take (or more) to the riverbank turned parking lot being occupied by more than a couple of boats. Everything is a bit more weathered, compliments of limited paved roads and freight costs that make cleaning seemingly futile and the simplest home improvement project impractical.
In the short time Curtis and I have been in the village it seems like everyone is eager to make a new friend, from the invitations to lunch after casual attendance at church, to a dinner late into the evening with the family of a man Curtis met at work. We may have been the only non Spanish speaking people in attendance, but the food was spectacular, the company was genuine, and English was spoken at least forty percent of the time.
There will be many things I will likely forget about this trip long after we have returned to our everyday routine. I hope that an appreciation for a slower pace and effortless community are not among them. To spend the afternoon in a pair of rubber boots wandering in open land—rain or shine—is more satisfying than I might have expected. And sharing a watermelon--which was referred to as costing $100, and honestly might not have been a joke—with two families I have never met, couldn't understand half the time, and enjoyed a game of scrabble with nonetheless, was wonderful as well.
Clearly a visit to rural Alaska hardly makes me an expert, but it does reinforce what Curtis's parents have been telling us for years—it is the people that make a place great. That Curtis and I can be so easily enveloped into the local culture—be it invitations to the weekly Latin dance class or bingo, dates with local runners at 5:30am along the river bank, or a bilingual dinner to share expensive produce and international cuisine—is a testament to the warmth that exudes from this rainy, wind-battered place.
Rural Alaska is facing a lot of challenges right now from education to employment to the ways that subsistence and traditional village living is threatened. Yet there is no question that despite these modern challenges this town still embraces a value for people above possessions, quick to share what they have to offer with those around them—even if only there for a visit. Perhaps this is the best treasure to be found out here in the wilderness, where the appearance can be deceiving to so many from the outside, and a visitor can't even come close to predicting what there is to be found.