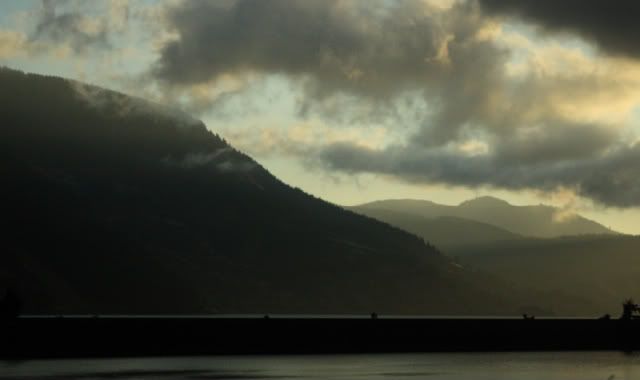 We left the great state of Alaska at 12:55am Thursday morning
, and arrived in the Northwest three hours later. Going on less than three hours of sleep with swollen feet left me listless and nauseous—and feeling the need to keep my mouth shut at all costs. Thirty minutes later, a cup of coffee in hand, I understood Curtis's life a bit better.
"Now I see why you drink so much coffee. This really is a drug," I commented to him as we claimed our bags, one of which apparently missed the flight. Earlier in our walk through Portland's airport I commented to him that three hours of sleep did not make me feel like a very healthy person.
"It's an acquired taste," Curtis replied.
Let's just hope I never have to work on my palate.
We hit the road by 6am, and drove out of town in a morning darkness I haven't witnessed since last April. The landscape of pine-laden, lush hills slowly turned into dry, desert looking rock formations, and the sun rising to reveal a blue sky was a welcome change after the downpours of rain we have had the past few days.
After an hour and a half of driving we stopped at a restaurant recommended to us by the rental car agent: Cousins. And, in case you were wondering, that is what everyone called us. Back on the highway again it was clear that the lack of sleep was beginning to wear on us, our conversation slowing a bit, our eyes becoming heavy against the bright sun.
As a child my family often drove up and down the West Coast once or twice a year to visit relatives and friends, packing up the car for ten, twelve, fourteen hour days accompanied by Adventures in Odyssey, new coloring books, and regular rest area stops. By the time I was twelve I could predict the likely stops along I-5, and name the towns along the way.
Today's drive reminded me of these trips, though this time I am with Curtis's family instead of my own. The miles of rural landscape, the occasional stretch of the legs and moderately tended public restrooms, the hours of quiet to sit and think and dream, it all felt very familiar. And I found myself wondering if the person I was at twelve knew that those trips would be the source of such nostalgia so many years down the road.
The older I get the more I grasp what will stick with me long term and what will pass and never be thought of again. The more I write the more I am glad I will have a recording of how I felt on occasions such as this, sleep deprived and slightly carsick from sitting in the back of the minivan: satisfied, full, and in awe of the way that life brings us back to places I was long ago, unsure of if I would every return.