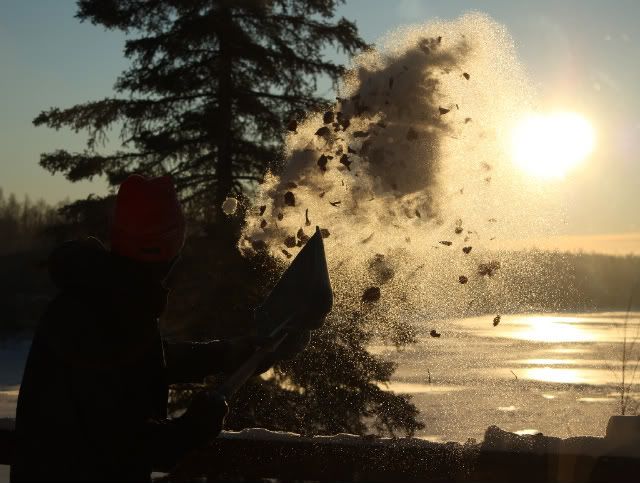 Essence of fall wrapped in winter…
On Friday night Curtis and I skipped town
, cramming in all our chores and errands as the evening wore on, finally heading down the highway when it was nearly nine. I put together a playlist with everything from Coldplay to Sinatra, and Curtis watched the road while I fed him bites of soft serve ice cream—courtesy of Costco's food court, our last stop for supplies before hitting the road.
The temperature dropped steadily as we made our way to the interior, starting at -4 in town and reaching a low of -19 by the time we hit my parent's cabin. Curtis unloaded the car while I ran around the inside adjusting the thermostats, turning on the hot water heater, bringing the house to life. After a quick look around we settled into bed, falling asleep sometime after eleven—a pretty late night by our standards.
Thanks to our typical schedules we were both awake by eight, just in time to see the first signs of light across the lake. Southern exposure is highly sought after in this state, where winter light is provided by brief visits from the sun, rising and falling in a narrow arch on the South end of the sky. With more than two feet of snow on the deck we bundled up after breakfast to find the temperature hovering at -25. As our eyelashes and face-masks became covered with crystals, morning broke before our very eyes, with the brilliant sun almost causing us to forget about the frigid cold.
As we headed inside we started the car, knowing that a night and morning that cold had clearly chilled the battery to the core. It barely turned over, sputtering a few plumes of dark exhaust before roaring with force. Turns out our vehicle may need an engine block after all—that convenient means of plugging the car in for those very cold nights, an amenity not included on cars purchased in Ohio.
Later my family arrived in waves, the parents, the siblings, my sister and her beau visiting from out-of-state, and together we cooked and laughed and played games long after the sunset—which was around 4:30. The next day thin clouds hovered, just enough to take the edge off the cold, though still below zero. We gathered shovels and made sledding routes, employing an old sled to transport us back to our childhood—where hours on a hill covered with snow and sunshine were all that was needed for entertainment.
By the time we made it home there was laundry and preparation for the week ahead. We put together a pot of soup and commented on how exhausted we were—perhaps a few hours hiking up and down a hill is more work than it felt at the time? I suppose our muscles will confess all truth tomorrow, when we return to our lives as professionals with responsibilities and schedules. Until then we make our plans for a return to this winter wonderland as soon as possible, to the place where clocks and thermometers can be ignored, and nothing is on the schedule.