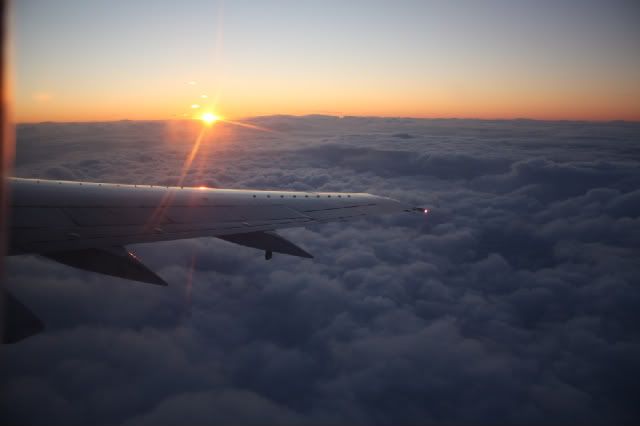 The sun rarely makes an appearance these days
, each one becoming shorter and shorter in daylight as we creep toward winter solstice. Even as the gains of January and February feel slow, there is comfort in knowing we are making gains with each week, instead of suffering losses. As I walked across a dark parking lot today in what is typically considered afternoon I realized how accustomed I have become to this existence: the glare of florescent lighting on ice, the rhythmic breathing of car engines left on in the cold darkness, the audible gasp I uttered when I saw sunshine out of a fellow teacher's window--mine, unfortunately, faces a brick wall.
This past weekend I made a brief trip out to
rural Alaska
to visit a friend completing the same rotation Curtis did this past summer. While some questioned why I would ever want to travel "out there", the nostalgia of a trip that provided so much rest and relaxation this summer made it an opportunity I sought out and scheduled, rather than one I tried to get out of. The weekend trip was extended when all flights were cancelled Sunday evening, courtesy of the latest blizzard/wind storm. While my sister, and also my pickup at the airport, questioned me making it back before the flight was even delayed, I realized I wasn't in any hurry to return. I had read a whole book, made s'mores in front of a log-burning stove, watched Hallmark Christmas movies, napped, cooked, and ran. And yet I felt like I had lazed the day away in passive relaxation, uncommitted to any task.
When I finally made it out around 11am on Monday morning, I had scheduled a substitue, written lesson plans, and found out school was cancelled due to terrible road conditions. As the plane broke the clouds I was surprised to find myself on the South side of the plane, just in time to catch the sunrise. At that moment I couldn't remember the last time I saw the sun. It had been cloudy all weekend--the only days I even have the opportunity to see it.
I feel like I am on the final stretch for a lot of things right now: one day of teaching and one day of grading, two days of Curtis on this busy rotation, one week until we start gaining sunlight. And finally I feel close enough: to breathe easy, knowing it will be over and finished, confident that even as the daylight disappears, it will return eventually.