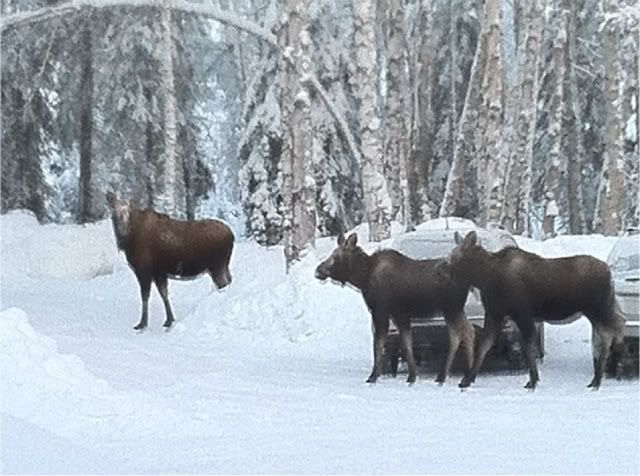 A couple of calves and a mother moose hanging out by our cars a couple weeks ago...
The chill subsided yesterday,
granting one glorious day of above ten degree temperature not accompanied by a dumping of snow. I packed my skis in the morning, hopeful that the morning snow would cease by afternoon.
And it did.
But not before we had three fire drills, thanks to a faulty system where one intentional drill turns into two more unintentional alarms that must be obeyed even though we are quite sure they are futile. Though I stood with students and co-workers out in the snow in a skirt and tights, my honest thought was still, "It's warm out here; what a great day for a fire drill."
The glide of my skis on the trails an hour later was a welcome feeling, especially when coupled with solitude and quiet. The hills strained my lungs, but the glow of the 4:30 sunset was gorgeous: a clear day with bearable temperatures, and groomed trails just a few miles from my house. I declared to Curtis later in the evening that if or when we move away, I will miss afternoons like this.
Today I was ready for round two: just me, my skis and quiet afternoon trails. Unfortunately the sun betrayed us again today, and the clear skies left temperatures in the single digits, with a wind chill that knocked them below zero. It is hard to pick your poison on days like today: frozen fingers that ache once warmed and swell for the rest of the night? Or yet another day in the germ-infested gym, surrounded by anonymous patrons, entrenched in the clanking of weights and whirls of treadmills?
Today I chose abused fingers, aching joints, a splotchy face and a slow glide that comes with the sharpening of cold crystals. Ten minutes into a friction-full ski, I rounded a corner to find a nice tall moose chomping on the local foliage. I stood for a few minutes and waited for her to move, given that she was almost completely blocking the trail. Eventually a nice old lady caught up to where I stood, and when she saw that we may wait for quite a while for the trail to clear, we agreed that our fingers were already frozen, and I confessed to her that what I really wanted at the moment was a hot bath. (We also noted that given the
latest local moose story
, we were unprepared without a shovel for protection.) One shortcut through fresh powder in the woods later and we made our way back on the trail circling back to the parking lot.
Given the same conditions tomorrow, I'm not sure what I would choose. The glow of the mountains and the promise of fresh snow is hard to refuse, even with the expected discomfort. I guess the truth is at the end of the day all bets are off; even with a poor weather report I cannot promise that I won't venture out with my best mittens resigned to collecting a deep chill.
After all, it's nothing a hot bath can't fix.