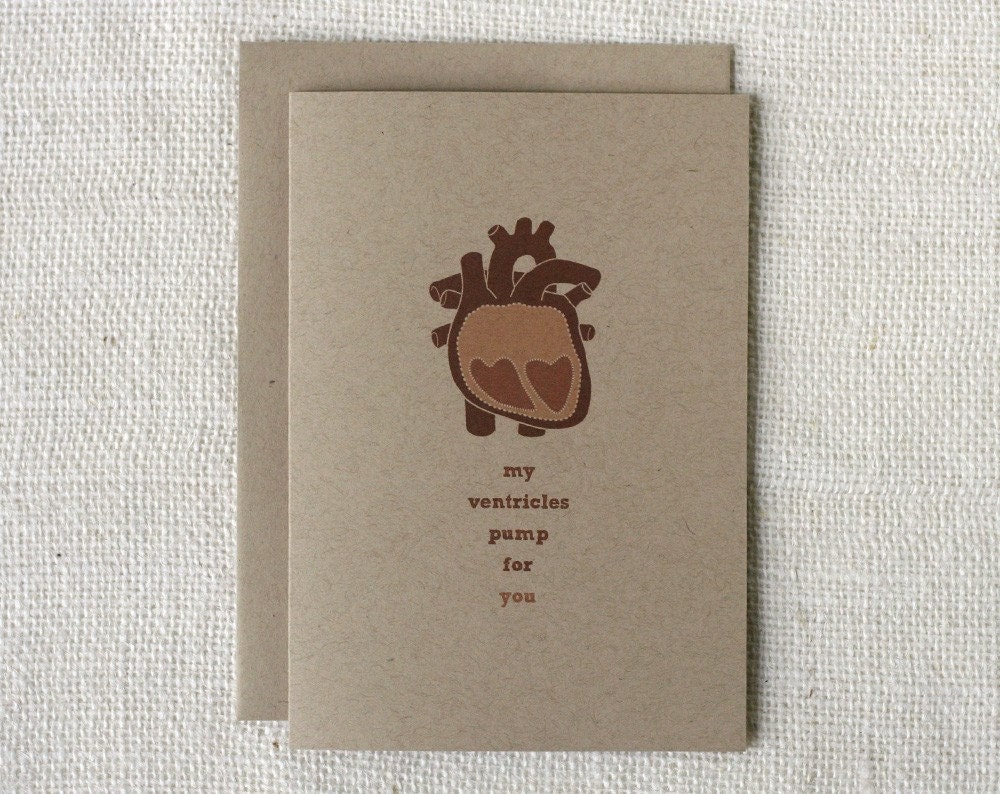 Last year's Anniversary card, purchased after finding this gem for Mother's Day...
I started shopping for Valentine's Day cards yesterday afternoon
, perusing Etsy looking for crafty inspiration to represent my "undying love and affection" for my husband. When I told my sister this while we worked out on neighboring eliptical machines, she exclaimed, "But you always
make
your cards!"
She is
traditionally correct
, but when last year's Mother's Day find led to the discovery of the perfect medical-themed-anniversary card, I thought I'd pick other crafty creative brains to see if they were full of inspiration I was lacking.
Note: I haven't found anything yet, but the search continues.
..
While making an evening run to Costco this past Monday night, Curtis and I ended up trying to remember what we have done for every anniversary. We realized that this year's celebration will most likely be out of town due to the schedule of his rotations, but given that we have celebrated no two years in the same place (or on the same day for that matter), it just means searching out worthwhile options when the opportunity presents itself.
Today, on the anniversary of our engagement, I have decided to record our anniversaries past, because every circumstance had a story:
Year 1
: We celebrated while visiting Alaska, for the first and only time on our exact date, by driving out of town to a restaurant in a small town with a cult following. While I had been there before (deeming it the location of the best-steak-of-my-life), it was Curtis's first visit, and he was not disappointed. We took pictures in front of the cloudy inlet on the way home, and returned to turn in early because even though I was off for summer break, Curtis was not. He was eagerly trying to put his best face forward; this was the location a potential residency, after all.
Year 2
: This year we scheduled our celebration a full month following our actual anniversary. Thanks to both board studying and an unmerciful OB rotation, the actual two-year anniversary was celebrated with a twenty minute dinner of baked salmon and salad, with a promise to celebrate properly when time allowed. At the appointed time we used a gift certificate won in a drawing to head out of town to our favorite Amish inn, with lots of surrounding area to walk, a large porch with a swing, and an incredible breakfast the next morning. It was delightful.
Year 3
: Though only eighteen months ago, this was the year we had the most difficulty remembering. This is unsurprising, since the day fell one week after Curtis began residency and two weeks after I arrived to start
moving in
/job searching/starting a new life. It was chaotic and a couple days late, but we found an evening to go out for dinner downtown, and spent it making plans. Time to dream and plan was short in supply those days, with me making decisions while Curtis slaved away at the hospital, but that was one occasion where carving out time to just be together felt like gold. It is fun to remember how much our lives would clarify after that point: a week later I would interview for a job, two weeks later I would have a contract, three weeks later I would tour and eventually make an offer on the condo we came to own(while Curtis would see it only shortly before closing), and five weeks later (on my birthday) an offer would be accepted.
Year 4
: This past year we celebrated early, thanks to the trip to rural Alaska which would find us separate on the actual date. My sister dolled me up and took
photos of us
to celebrate, and then we went out to a quiet dinner at a local place known for spectacular seafood. We followed it up with a trip downtown to walk around in the lingering summer sunshine, appreciating our time together which had been pretty sparse in the midst of Curtis's traveling rotations.
Year 5
will find us out of town, location to be determined, and I find myself already excited for a specially planned date--a welcome break from whatever chaos we are in the midst of at that point. Today that is a welcome idea, as I find myself wishing Curtis wasn't on call five of seven days this week, and that our free time was more abundant to enjoy each other and the generous amount of snow we are getting.
Yes, today is the anniversary of our engagement, and though it is not a date we typically celebrate, I am finding myself nostalgic. It's hard to believe that we've been married for almost five years, but much harder to imagine living apart.