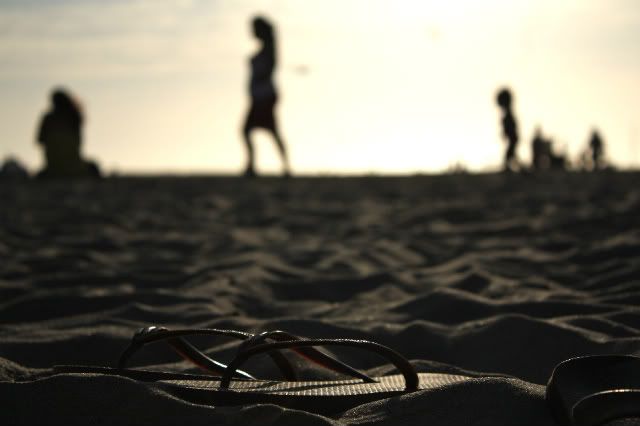 Sandals, used liberally for the past few days, are now tucked away while I wait for spring...scheduled to arrive sometime in May.
Modern day travel astounds me at times
, especially when I'm transported from seventy degrees and sunny to a place that appears to be stuck in the dead of winter—in just a few hours. When the bags are unpacked, the toiletries replaced, the laundry folded and dinner brewing in the crock pot, the routine I slip so easily back into seems to erase the change of pace that actually took place the nine days prior.
Then, I find evidence that assures me we have indeed been gone.
The trash for our condo complex clearly wasn't put out last week for Tuesday's morning collection. I typically put out the trash, and have often found myself wondering who put it out before we moved in. Given the overflow situation that now inhabits our shared garage, I'm half tempted to "forget" this week, and see if they notice.
My running shoes are covered in red dirt. Back when the spring break trip was scheduled in January, I proposed that we visit the Grand Canyon and hike to the river and back as part of our trip. While my timing could have been a bit more strategic (the suggestions was made while Curtis was surviving on very little sleep, and a hike that is clearly challenging sounded like a terrible vacation activity), Curtis eventually came around to the idea. We made our plans: fly into Southern California, travel to Arizona, visit with friends and family along the way, and spend one day hiking up and down 5,000 feet in 16+ miles. Five days later, my legs are finally not protesting every time I ascend or descend stairs. This is crucial given that we live in the third story of our building.
Last, the faint glow of sunshine still lingers on my shoulders. Even as I dress in layers to shield off the cold of our oh-so-present winter, my face holds a bit more color than it did last week. Ever aware of health benefits and drawbacks, we lathered up generously with sunscreen for our seven-hour hike. When we finished the day and washed the dirt off, I was mildly disappointed to find little lingering color of any kind. The next day after an afternoon in the sun playing cards with friends, I found a bit of pink on my arms, evidence of 80 degree temperatures that we had basked in for a few hours. Given that such conditions rarely make such appearances even in the summer, it was a real treat.
Tomorrow reality resumes. Curtis starts a new rotation; I start a new quarter. This finishing segment of the school year is one that is full and fast, often leaving me to catch my breath in late May when the pace finally slows. For this reason I am grateful for times of adventure and rest apart from the routine we typically exist within, even if it seems at times that we never even left.