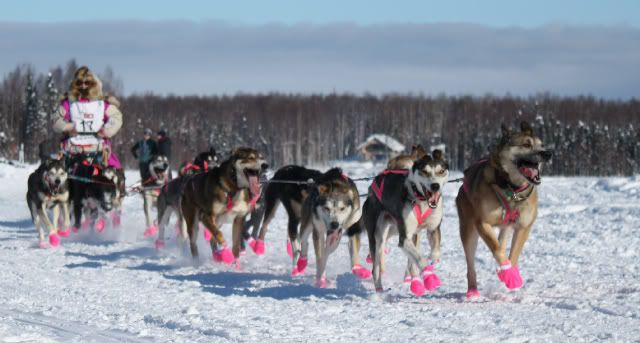 Cheering on Deedee, who is running her 30th Iditarod and is one of Curtis's former neighbors...
The Iditarod is in full swing
, and we ventured up to the start last weekend to cheer the dogs on their way. Hanging out in the snow, Curtis and I skied around checking out the snow machine parking lots scattered around lakes, watching multiple planes land to take part in the festivities: it was a moment that felt truly Alaskan. With blue skies and mild temperatures, the conditions were nearly perfect, and at the end of the weekend it was all I could do to gather myself up for another week at school.
The last week before spring break is a tough one for teachers and students alike. The teens get antsy, ready for some space and times for themselves. The teachers are exhausted, spending more energy than normal on keeping everyone entertained and on task--anxious themselves for a break from the action. And though our snowy winter continued, putting us within six inches of setting a new record for winter snow accumulation, the skies were blue more often than not, making eight hours inside dreadful.
Curtis packed his bags for break last night, a full 48 hours in advance. Though he was up an hour before me to type notes and catch up on paperwork, I think he relished working one step closer to departure: a time away from work and routine, a time to rest and visit family and hang out with his favorite wife. I've been making my own pile of "things to not forget when packing": my favorite satchel, almost every pair of shorts I own (they don't get a whole lot of use up here, so I really don't have very many), and a collection of summary clothes that used to get used regularly and now sit in a stack in the upper right hand corner of my closet.
The hours before a trip often leave me feeling anxious and unsure, ever wondering what I'm forgetting, endlessly listing tasks to accomplish before departure: download podcasts, wash my favorite pullover, make sure nothing in the fridge will rot. Couple that with the conclusion of the quarter and the push to post grades and file papers and make sure everything is ready for the final nine weeks of the year only doubles my concern that something will be forgotten. And even as those last minute details clutter a mind that is longing for relaxation, I remember that everything will be fine once we're on the road: socks can be replaced, sunscreen can be purchased, and catching up with Curtis negates much of the book reading I plan into our vacations.
Today the school was quiet, the students were absent, and I was able to put my classroom to rest. Tomorrow I'm hoping to do the same with my mind.