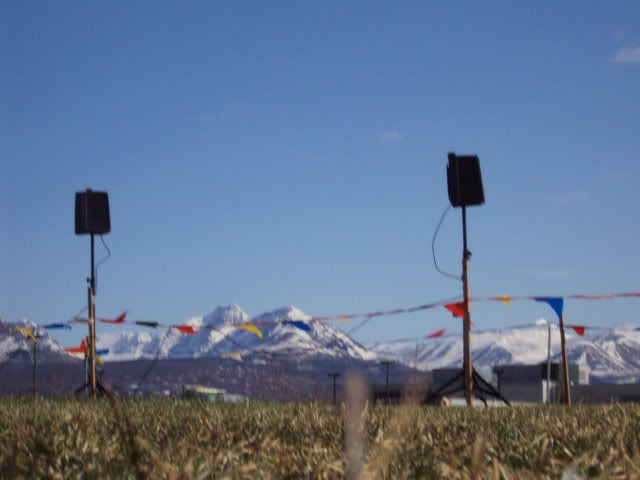 Taken last year at a track meet in early May; I'm holding out hope that we'll get a grassy infield at some point...
If someone had told me that coaching is half excel documents and spreadsheets
and a quarter corraling I would have written that person off as cynical. Now I know she would have just been being honest. When practice is over and the locker room locked, my voice sore and attendance marked, there is so much more to do. First is the wait for tardy parents, the ones that have gotten stuck in traffic, an appointment, or just decided that their grocery shopping was more important. Then begins the data entry: absences excused and not, parent permission and volunteers, t-shirt orders and sizes and funds collected - not to mention the papers to be submitted with the funds later on.
As an athlete I thought all my coaches had to worry about was coming up with new and exciting ways to exhaust and challenge us, now I know that workout plans are just the beginning.
Even as the details threaten to overwhelm me, I still love my role as coach. Changing into running shoes and circling the halls is a a totally different way to connect with students than correcting their grammar. Students that struggle to construct a sentence might dominate all others in 200 meters. It is good for them to succeed; it is good for them to know I see them as more than just a struggling reader.
Today is our first meet. Though the sun has been shining in generous quantities, we will be racing indoors. Unfortunately, the tracks are still buried, as are many of the sidewalks and back roads. After a week of temperatures in the high forties, minus a couple days and inches of snow, we have been making progress slowly. We really need some rain and wind if serious gains are to be made quickly.
Tonight, when the buses have gone and the athletes are home and I have finally finished the day, I know the rush of satisfaction that comes from the culmination of racing will carry me through. Practice is fun; measuring and recording the fruits of their labor is thrilling. And as I stack my clipboard meticulously--order of events, attendance, sign out sheets, event assignments, bib numbers--I get excited for the first start of the season, when the gun goes off and athleticism is tested, and all spreadsheets and comma splices forgotten.