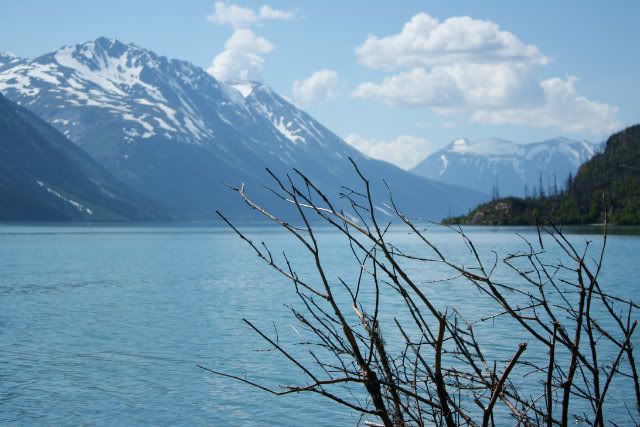 The lake that neighbored this year's campsite...
Two years ago I started our new life in Alaska by stepping off a plane
, crashing for a few hours, and waking jet-lagged to attend a campout in the rain. It was an initiation of sorts, a "go meet the future family of your husband's work-entrenched life" occasion. And while the meeting and greeting was important, I walked away describing people by the color of their raincoat instead of by their names; there were just too many to remember.
Last June we ventured to a different campsite, and met a new set of "newbies" anxiously awaiting the start of their new career. We still found ourselves coated by rain, but with the company familiar it was still a weekend away from the hospital: no pager, no chance of driving in. This year the weather cooperated and I found myself overheating in temperatures in the high 70's, lounging by the lake that neighbored our campsite to catch a breeze off the water. We invented games of seeing who could wade into the glacier water the longest, and read scholarly articles aloud by the lake front. It was bliss.
The end of June featured both the annual campout and graduation, and even though Curtis isn't moving on this year, it's nice to formally mark the end of one more year passed and one to go. This year will raise some questions and uncertainties--much like the year before medical school and residency--but it also marks a bit more independence, and the beginning of a career that is his own.
Meanwhile, we make our plans to continue a little more of the same this year, a welcome bit of predictable rhythm in the midst of a time that will likely hold its share of question marks. With several weeks left in the summer, however, I'm basking in the abundance of time that comes with summer, pushing the lesson plans to the back burner for a bit longer and prioritizing more important tasks like finishing my latest book, catching up with friends or cooking a batch of snicker doodles.